The summers here in Ohio are pretty short – actually, with all the rain covering the Midwest, we are struggling to see any time of summer weather at all. So on those days where you really need a glimpse of happiness, you might go on a walk and check out all of the wonderful flowering trees in the neighborhood. Whether you are looking for shade or just a pretty tree to look at, there are so many Ohio trees to choose from.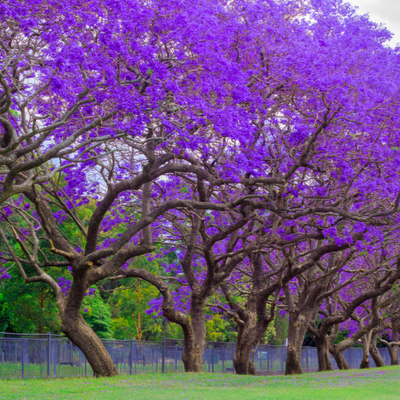 After a while, you might start to think how nice it would be to have those trees incorporated into your landscaping but you aren't sure where you should start. Understanding which trees are going to bloom the best in the Ohio summers is going to be the key to ensuring you end up with the right trees for your landscaping, focusing on adding exactly what you need to your lawn.
Consider a Small, Bright Trees As An Accent
The Jacaranda Tree is something that can be a bold and beautiful accent tree to the front of your yard. This tree is pretty compact, usually shorter than most full-grown humans, standing at only three or four feet tall. As an accent tree, it provides a deep purple color that is appealing to the eye on all accounts. This tree is one that you can count on to bloom early on and stay full all season, leaving you with the maximum amount of flowering. If you aren't super interested in making this an attraction by putting it in the front of your house, you can always incorporate it into a more private area of your yard – maybe even considering building a sanctuary in the back.
Crimson Is The New Black
The color crimson will always be an incredibly popular and sought-after color, especially for landscaping. That's why the Crimson King Maple Tree is one of the more popular backyard trees. We say backyard trees because this plant holds itself at about 25 to 30 feet tall and has a crimson, brownish color to it that catches almost everyone's eye. If you are looking for something show-stopping that can also provide a ton of shade to your home, this is the tree for you.
A Brunch Drink Or a Pink Tree?
The Pink Mimosa is really something to look at when it is fully bloomed. Similar to the Crimson King Maple, this tree gets up to about 20 to 25 feet tall and is considering a medium-sized tree. Although it sounds like one of our favorite fancy brunch drinks, it is just a tree that produces magenta pink thin flowers that turn white at the bottoms. Even though it is pretty tall, it won't provide you with the shade that you might get with a fuller, larger tree like the Crimson Maple will do for you. This particular tree will bloom in the early spring, leaving you with plenty of time to enjoy the flowers on it. It will be a little less striking than the Jacaranda tree but will provide a nice, muted touch of color if that is what you are going for.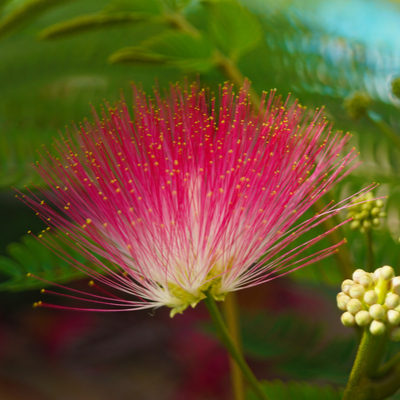 Treat Your Trees To The Best Care
If you have recently added one of these beautiful trees to your home or business landscaping, you are going to want to make sure they have a good care regimen so that you can enjoy them throughout the summer. Whether you chose the bright purple color of the Jacaranda Tree, the tall shade of the Crimson King Maple tree, or the soft accent of the Pink Mimosa tree, Agxact Lawn and Pest can provide care for all of the above.
Where We Service
We currently service these locations and more!
To learn more or to schedule an appointment, give us a call today at 937-949-8199, or you can leave us a message online. And don't forget to check out our blog page and Facebook for more helpful articles, photos of work, and the latest deals.